Launching the CJF Edu-Skate program in Jamaica with Tim van Asdonck.
07.09.2020 - 5 min read
Interview of Tim van Asdonck
---
Hey tim! Since you are still in Kingston to get the program starting, can you tell us a bit about what's going on at the freedom skatepark since the park has been built in March 2020?
Hey Lisa! After we finished building the park, we couldn't progress with anything for about 3 months due to the Coronavirus restrictions... A lot of things around the park were left undone like the Youth Centre and the landscaping around the park and we couldn't start any programming and organised activities. The park had officially not opened yet, but of course the local skaters and the volunteers that got stuck here were eager to skate the park, so in this limbo we were skating the park everyday and exploring its potential.
This attracted a lot of curious souls from the local community to stop by and see what this new place was about. The COVID numbers went down around this time and the Jamaican government relaxed its restrictions. This coincided perfectly with the bigger crowd that came to the skatepark everyday. Work at the Youth Centre started back up, and with the seatstance up, the skatepark became a central place in the community for people to hang out. Lots of them were interested to try skateboarding, but with no programme in place and few skateboards available, it was still hard to accommodate everyone. Since the COVID numbers had stabilised to single digit new daily cases, with the relaxed government restrictions and a donation of 10 skateboards from PSC, I felt comfortable making preparations to start up programming.
I started handing out registration forms for free Edu-Skate classes and half July we started our boardrental programme Get-on-Board. People can rent a board for JA$100 (USD $0.68) per day, or rent for free if they participate in a monthly community activity (since even though the price is low, not everyone in the area can pay this). At the moment we have 150+ people registered for Get-on-Board and so far we organised 2 Community Activities (attended by around 40 people each time) in which we worked on landscaping at the park (moving gravel and soil and planting plants and trees to make the place look pretty). It has been beautiful getting the local community involved in the development of the park to make it their own space.
In August we started with Edu-Skate, daily skate classes at the park with a focus on a different life-skill each week. We have 80 youths between 6-16 registred, of which 31% girls. The park is becoming a vibrant youth space and an incredibly positive community is starting to form around it, guided by the 7 local youths employed in the positions of Skatepark Manager, Skateboard Teacher, Graphic designer and Media Manager. I'm incredibly stoked to see how the Freedom Skatepark is developing as a positive community space.
You are staying longer than expected due to the coronavirus restrictions that have postponed the start of the program, how was it for you in between the build and when you could actually start your mission?
The limbo between the build and starting up programming was a weird period for me. It was filled with insecurity about if I could actually do what I came to Jamaica for. After a few weeks of stress and insecurity I had accepted that I couldn't force things and started to live more in the moment and see things in a different perspective. I mean, the whole world was on its ass and I was quarantined in a place most of the people locked up in their houses could only dream of: the beach and the skatepark were both within 500 meters from where I lived. The days turned into an endless streak of surf and skate sessions with the locals and the volunteers that were still stuck. We lived in a weird, blissful little bubble.
I read that you re using playing as a way to pass on certain social/life skills to the kids. How is skateboarding an interesting medium for this?
I think skateboarding holds a few key elements that don't only relate to skating, but also to your development as a person in life. I think many skaters (especially ones with a tough and/or neglectful childhood) socialised and developed their personality through skateboarding.
I see the 3 cornerstones of skateboarding as follows:
1. Competence: becoming skillful in something, being effective in what you do. Unlike many other physical activities, skateboarding is constantly focused on trying, learning and mastering new skills.
2. Relatedness: a feeling of belonging and connection to others. Even though it's an individual activity, skateboarding is also a social activity. You skate together with friends or people you don't even know: you share skatable spaces, which causes the inclusive character of it I think. And more importantly, I think skateboarding has been a place where people find connection that don't feel like they belong anywhere else. Probably because of point 3:
3. Autonomy: making your own choices. I think this is the most important characteristic skateboarding distinguishes itself with: the freedom it brings to do what you want and to express yourself.
Skateboarding is an interesting medium to work on personal development because the Self-Determination Theory defines these same 3 components as essential for psychological well-being in order for a person to thrive. Edu-Skate, the programme I developed and CJF works with, is a playful way to touch on and develop life-skills connected to these 3 cornerstones that are present in skateboarding but also your personal development in life. Examples of the life-skills we cover in our classes are having a positive mentality in taking on challenges, building your confidence, being creative, respecting each other and encouraging each other.
You don't only focus on skateboarding itself but also the culture that surrounds it. Is that right? Like how can skateboarding helps you express yourself in any other way, through photography, designing, filming....etc?
Definitely! I think this partly coincides with my previous answer: the life-skills we work on in Edu-Skate are based on what it takes to progress in skateboarding, but also on the culture that surrounds it and the values that pertain to it. Since expressing yourself is such a big part of skateboarding, I think that opens up eyes and opportunities for people to express themselves through whichever medium that interests them.
Besides Edu-Skate, we work with the Planting Seeds Apprenticeship programme, in which we provide job opportunities and traineeships in the different creative fields that have grown around skateboarding like filming/photography, designwork, teaching etc. We want to stay as close to the creative and DIY spirit that underlies skateboarding and provide opportunities therein: taking ownership for what you feel passionate about. I think that is a big strength in CJF, and also in how our local teams are managed: individuals get to express and grow themselves in the fields they feel passionate about within the framework of a collective aim.
How is it working at the moment for the locals, how many people are engaged in weekly activities and in which fields?
For the locals that have a board: they come skate when they want. We're open everyday from 1pm - 9pm (depending on the curfew). During mornings and the start of the afternoon it's usually too hot, so people start to drip in around 2.30pm usually.
For both the Get-on-Board programme and the Edu-Skate classes we have an average engagement of about 10 people per day. They just have to sign a registration form the first time they come. Besides that we're starting to track community support in general too, as people from the community help out with little jobs at the skatepark on a daily basis. Then of course we have our staff working on a daily basis as well. All in all, on average we have around 40 people at the skatepark throughout the day. I would love to organise events and activities on the weekends, but that unfortunately is not possible with the COVID situation here.
Are there any specific requests you need to adapt to satisfy the scene needs?
Recently we've had quite a few adults asking about skate classes, so I'm thinking of starting up an adult class. We're still waiting for the Youth Centre to be fully set up, and looking forward to having a little shop in there and providing a space for local entrepreneurs to set up their shop/gallery or whatever they want. The main request is where to buy skate materials. Ivah Wilmot is trying to set up a shop, but it's hard for everyone to get their hands on gear. I think the board rental programme is essential at the skatepark for this reason.
Edu-Skate classe by Jeff Crossly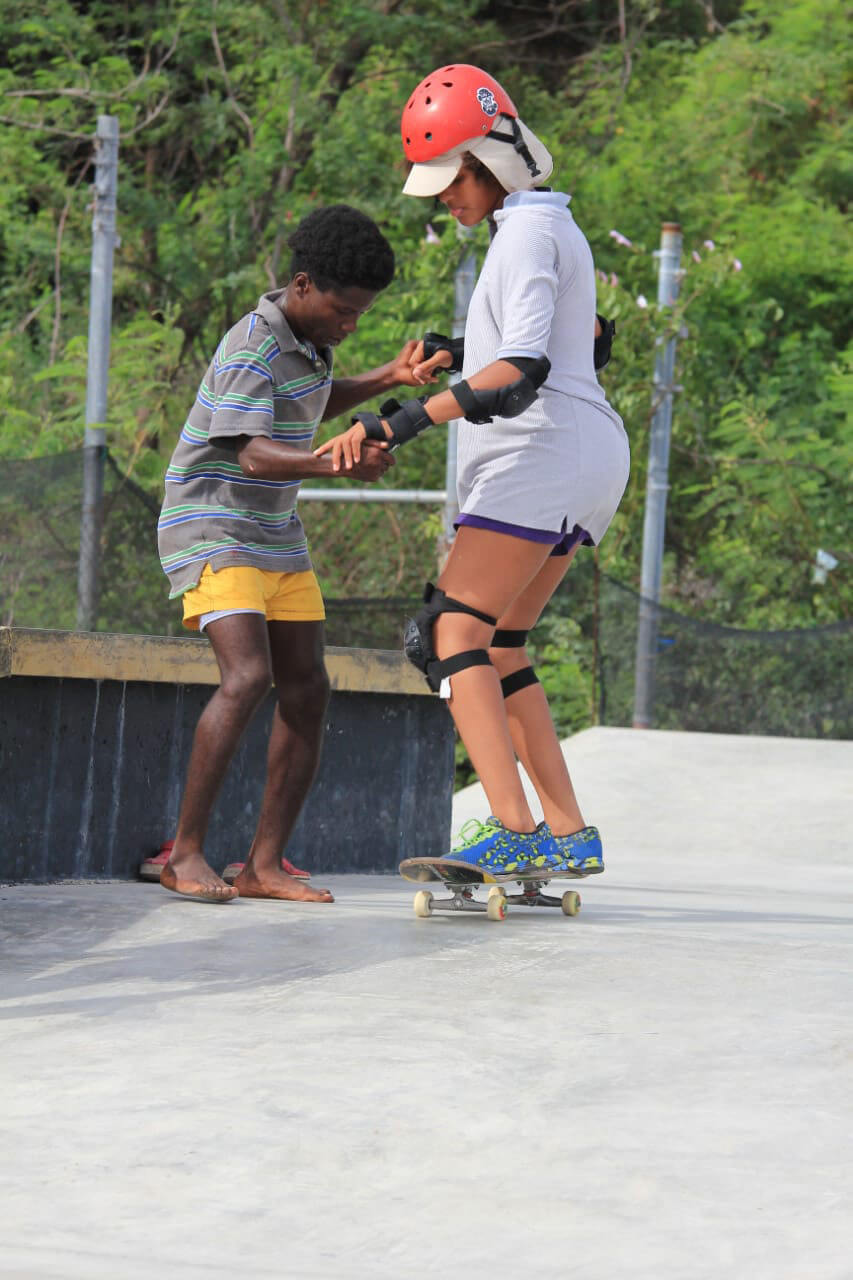 Edu-Skate classe by Jeff Crossly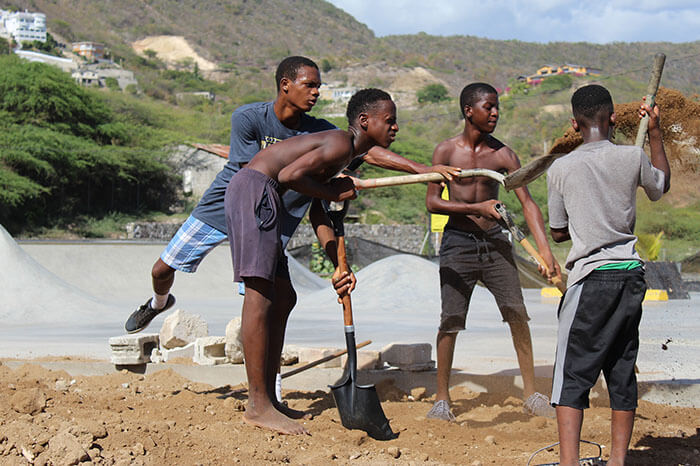 Community activity by Jeff Crossly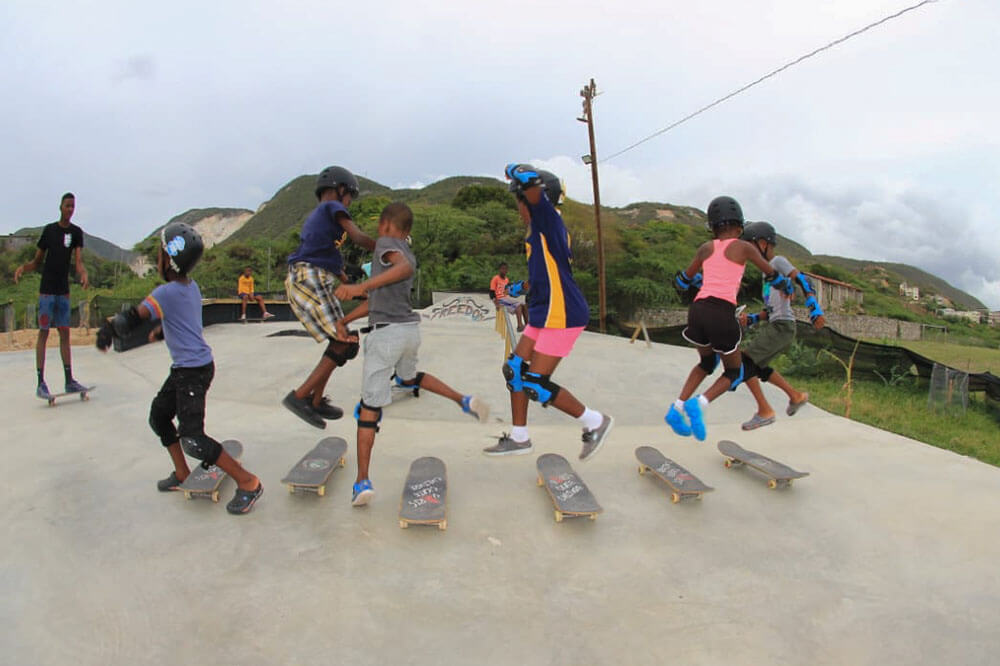 Edu-Skate classe by Jeff Crossly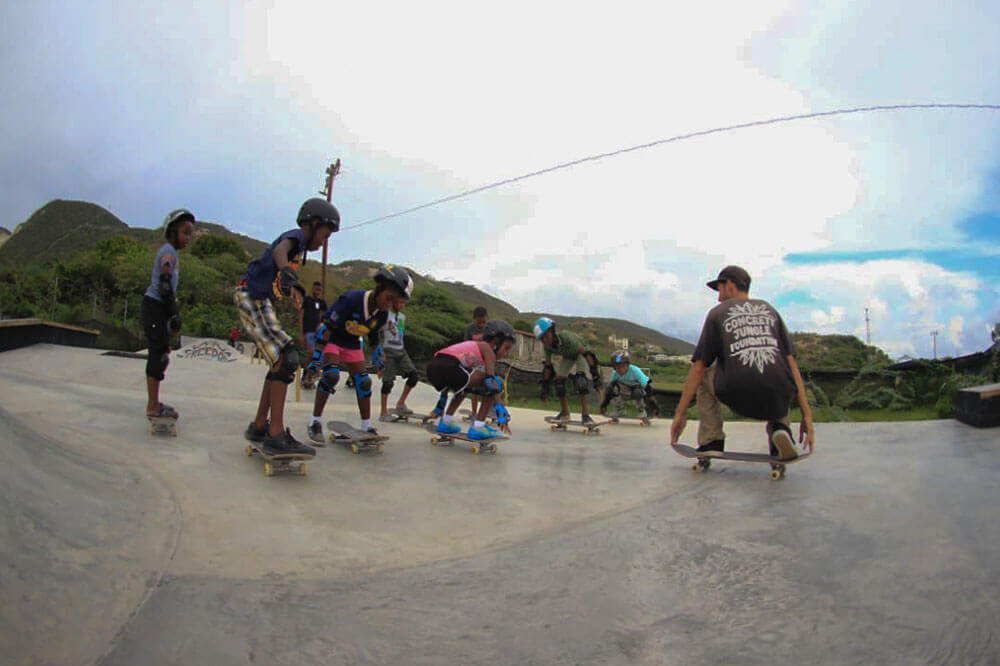 Edu-Skate classe by Jeff Crossly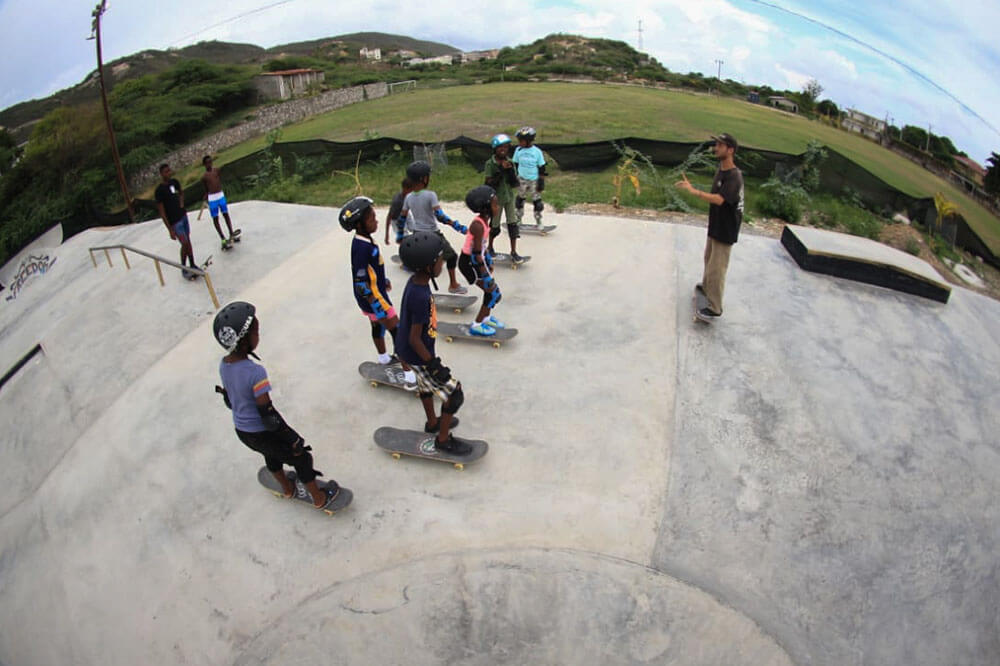 Edu-Skate classe by Jeff Crossly