Free Movement Skateboarding with Will Ascott
28.10.2020 - 7 min read
Interview of Will Ascott
---
Hi Will, it's a pleasure to touch base on Free Movement Skateboarding with you! You guys are doing such an incredible and necessary job in Greece. Could you tell me more about FMS and your work with refugees?
Hello mate, good to hear from you. We love being part of this big old international family of social skateboarding projects, I like doing interviews for publications like yours! At Free Movement Skateboarding, we share skateboarding with those who need it most in Athens, Greece. From our mobile skatepark, we skate with young people from diverse backgrounds and genders to promote social cohesion, empowerment and wellbeing.
Together, we push for a welcoming and diverse Athenian skate scene. We work with all sorts of young people in Athens, locals and migrants, foster kids, Roma, all genders, young and old. We try to create an atmosphere for cohesion through skateboarding.
Are you currently in Greece?
Yeah, I had 3 months with my parents in the UK over lockdown, but I've been back here since June.
Do you have a positive insider story to share with us?
One participant who makes me so proud was a slightly older Afghan girl who started learning to skate with us in our first year. She learnt fast and quickly began teaching in sessions. She has now moved North to another European country and is running her own project in the camp she lives in up there, with ramps, boards and safety gear for the young people in her community. It's so important for the young people to have someone from their own community teaching them. I'm honestly so inspired by her and I really miss skating with her!
Correct me if I'm wrong but the COVID-19 emergency has closed even more doors for the refugees, do you feel any changes in your work with children? How do you approach the situation with them?
Yeah we've seen some big changes this year, same as everyone else in the world. The biggest one for us is the fact that camps are now closed. We were teaching 9 sessions a week but have had 4 of these cancelled. We're gutted to have to immediately cut sessions in 2 camps, over half of our participants, and now these children are locked down inside, only able to leave for their very infrequent asylum service appointments. I am certain this will have real detrimental impacts on their development and behaviour. And beyond this, due to other new strict regulations, smaller NGOs might not be allowed into camps at all in the future, further cutting the already limited services in camps. I really worry for those kids.
All this considered, our work is now entirely based in the city with unaccompanied minors shelters, squats and youth centres. These young people had really missed our sessions whilst we were away and were as enthusiastic to rejoin as we were to teach again, but they were also starkly aware of how the world had changed. We went to great effort to give clear advice and in-session rules about COVID19 safety, informed by local Medecins Sans Frontieres staff. We have smaller sessions now, with instructors in masks, hand sanitiser and daily washed pads. We're hoping to grow our inner city sessions in the near future and have a couple of partnerships lined up.
Do you follow the situation of your beneficiaries? By this, I mean, have you seen some progress in terms of paperwork and getting out of the camps since you started FMS?
We keep in touch with some who have left, but it's often difficult. Many kids don't know their own asylum status, nor how long they might stick around in Athens, that's up to their parents, and it's also not for us to ask, so we don't often know when they'll leave and unfortunately there might just be one week where we stop seeing a certain family. We can hope they made it to Germany, the most commonly desired destination, but it's impossible to say. We also don't keep in direct contact with the young people we work with because of child protection and safeguarding rules, so unfortunately, if they leave, we are unlikely to hear from them if they're under 18. The transience is quite hard in that respect. You obviously miss kids when they go, but actually it happens quite rarely, demonstrating the slow speed of asylum applications.
Apart from a close EU, is the situation evolving at an international level?
The flow of people keep coming and will certainly continue to do so. Greece, because of it's geography and EU membership, will always be a crucial place in terms of migration. With so many unstable regions across the Middle East and the worsening effects of climate change, I'm pretty aware that things aren't getting better any time soon. When you look at the scale of the problem, considering inaction across governments, and associate it with the destitution felt by people you've grown close to, it's absolutely brutal.
Do you have any mental health protocol in place within FMS? Or do you work with other organizations on the ground to provide help in that field? How do you best protect those vulnerable children?
Working in this area has proved difficult for so many of our staff, me included. We've suffered a lot of burnout and seen a lot of staff turnover. The scale of the crisis here is immense and it takes discipline to feel like you don't have to do more, because the need will always be there, regardless of how hard you work. I also find the trauma and the associated behavioural problems in the young people we work with pretty tough to see. It's hard to have the energy to constructively support the kids through challenging behaviour and out the other side amongst what can be very hectic sessions, day in, day out.
Thankfully, FMS have been lucky enough to get funding for the following 6 months for psychological support for staff. Full time team members will get 2 hours counselling a month, which I hope will do something towards keeping us in good form. I feel absolutely blessed to have got that funding, it really takes a load off every week, it's great to have time allocated for these conversations and I would advocate to anybody, in or out of a humanitarian job, to get therapy.
How do your workshops make connections with the young people you work with?
Skateboarding is an amazing way to connect with young people. It is non-verbal communication, it requires trust in the instructor as we take the kid's hands as they drop in for the first time. Skateboarding gives them a connection with their bodies and engages their mental state with their physicality. Watching the communities form in sessions is special too, kids from different nationalities, Greeks and migrants, skating together, sharing space and creating bonds and community that extends beyond the session. All of these things heal trauma and from the feedback we get from parents, partner project staff and the kids themselves, I am confident skateboarding will have helped them grow into well rounded individuals.
How can I help the cause, from far and unconditionally?
We really value the support we get from our donors. It honestly means so much, as these funds enable us to keep working full time providing the sessions, supporting the wellbeing of marginalised young people in Athens. It honestly means so much to us and to the kids, so we really appreciate it. You can donate via https://freemovementskateboarding.com/donate.
Would you tell me more about FMS future plans?
FMS plan to build a skatepark and a youth centre in central Athens. We are currently working with the skate scene and other NGOs to create a strong proposal next year. Over the three and a half years we've been doing this, we've learnt that young people thrive in small sessions and respond well to a mixture of structured classroom time and free skateboarding. The sessions we used to run in camps were so hectic and difficult to manage, whilst the trips out and structured programs saw great results. The Women Skate the World women's program showed us the benefits of a well thought out curriculum, with conversations between young people about body safety, emotions and gender stereotypes. For kids with so little consistency in their lives, showing up every week and creating spaces for certain conversations can not be undervalued. Anyway, a youth centre and skatepark would facilitate us providing more sessions like that in a safe space for all disadvantaged communities in Athens.
Finally, how can we follow your activities?
Thanks for taking the time to interview me mate, I hope my answers weren't too bleak! As dark as some situations can be, skateboarding can form a part of lifting people's spirits and pulling them through.

Peace!
Picture by Free Movement Skateboarding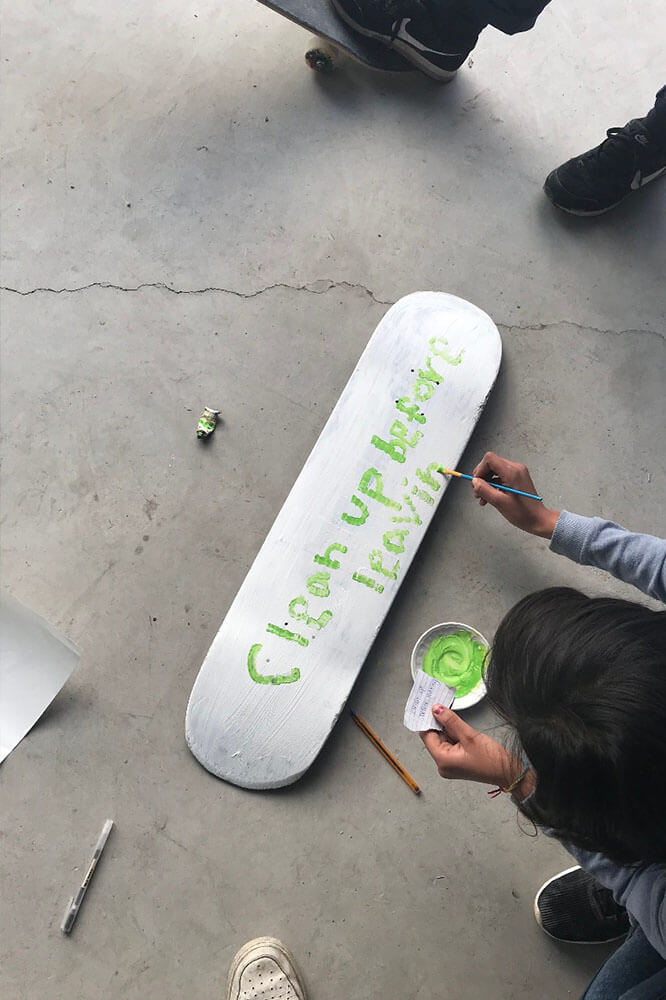 Picture by Free Movement Skateboarding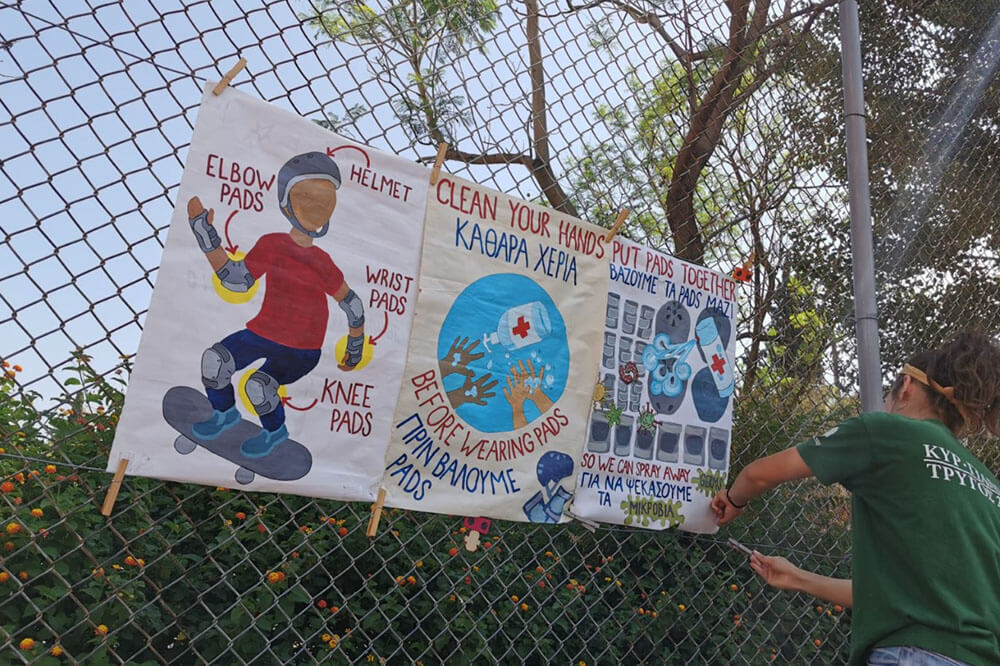 Picture by Free Movement Skateboarding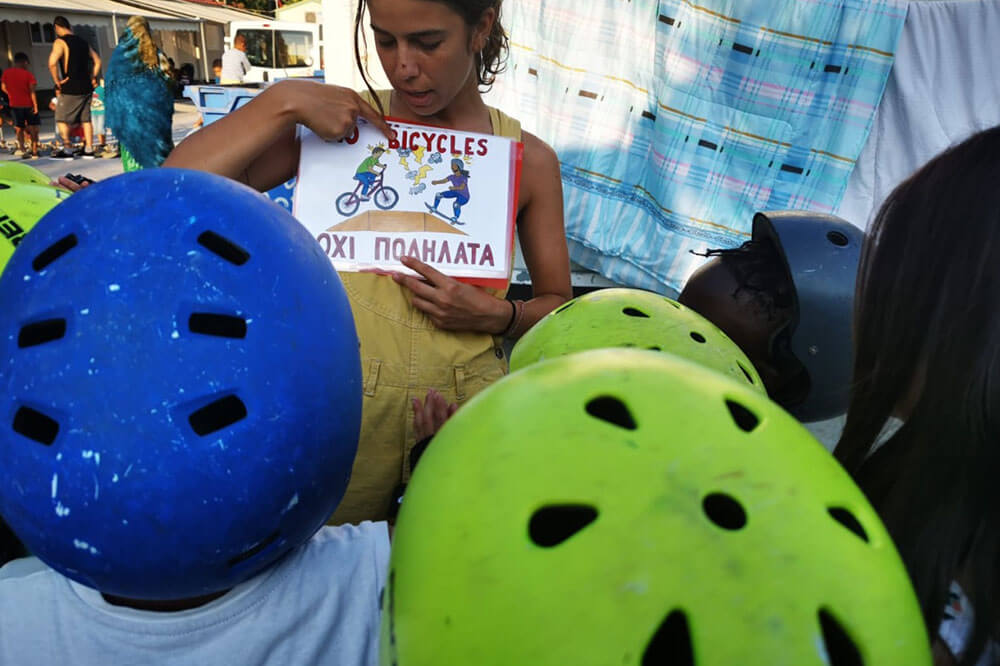 Picture by Free Movement Skateboarding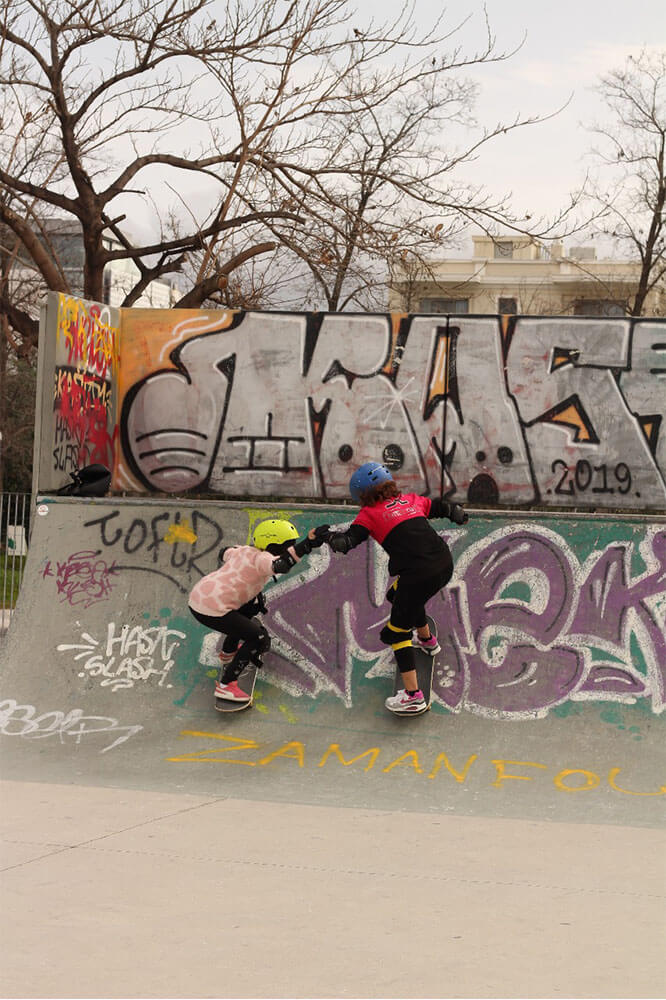 Picture by Free Movement Skateboarding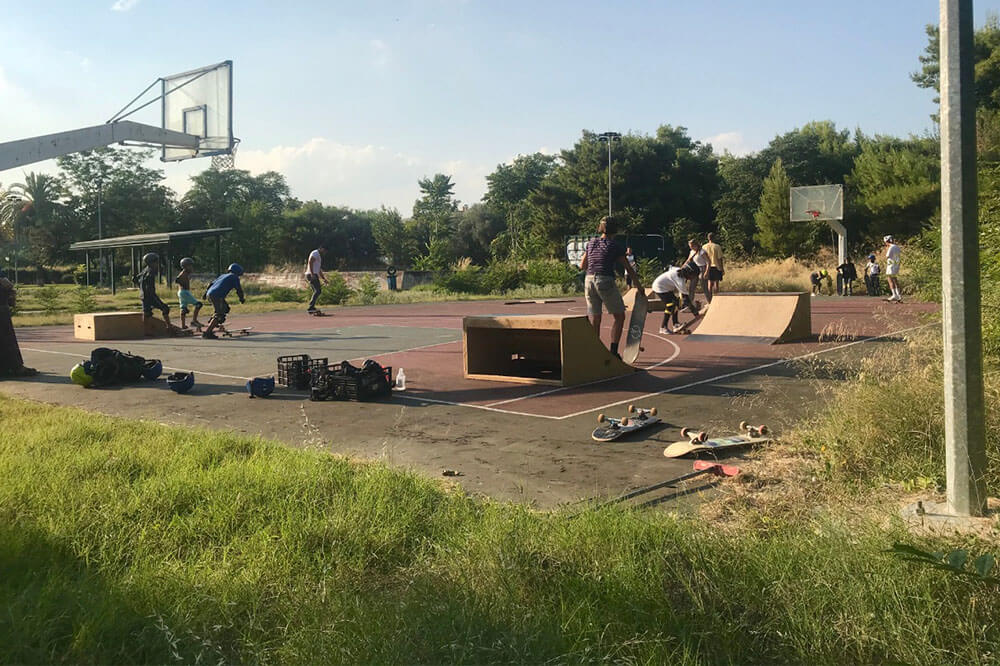 Picture by Free Movement Skateboarding