Providing scholarships for skateboarders in the US with CSEF.
10.07.2020 - 5 min read
Interview of Keegan Guizard
---
You are the founder of CSEF (College Skateboarding Educational Foundation), an organisation that provides scholarships for skateboarders in the US. What made you want to support education among skateboarders?
Each of us that co-founded CSEF had different experiences with higher education, but I had a sort of traditional path by going to a four-year university straight out of high school. When I was in college, my friends and I started a Skateboarding Club with Campus Recreation. That crew of students had a lot of fun, traveled with financial support from the school, hosted contests that raised money for charity, and generally accomplished a lot of good. We had loads of fun skating together and have a strong group of friends. Meanwhile, we were all working toward degrees that would increase our value in the job market at the time.
Can you explain what the Collegiate skate tour consists of?
Collegiate Skate Tour was a continuation of the contests we held at NC State University. When I graduated, I stayed in touch with student skaters in other parts of the U.S. that we'd met while traveling, and the Tour was a contest series for college student skateboarders. We put on events for students on both U.S. coasts over seven years; we also offered contest divisions for people that weren't in school.
You told me that your applicants selection is based on good grades, financial needs and community involvement. Do you have a few examples of students that made a difference in their community?
This is my favorite part of the job! Getting to brag on the students we are able to help. Every recipient does something special for their community, crew, skatepark, etc. Chakkrapun "Tay" Srikuttamart who studies Architecture at the University of Oregon co-created pop-up gallery events in his town for friends, fellow skaters and students. Multiple of this year's recipients, Maddy Brown and Vet Nguyen, have worked extensively with Skate Like a Girl. Scholarship recipients from multiple years/scholarship classes have been heavily involved with DIY culture (some of the spots they've helped build are world-famous).
Should the applicants have a serious goal about what they want to do with their life after college?
Yes. This is a soft criteria that we use, especially when we are making final cuts. If an applicant has a clear vision of how they will use their degree, it makes it easier for us to move them up in the selection process. It is more and more important that those who take on financial liability to attain a college degree have a good idea of how they will use it and not fall behind with lack of direction.
Do you follow up on what happened to the students you helped?
We definitely do! Via Instagram (@csef & our personal accounts for some of us on the Board of Directors), we stay connected and encouraging them on their paths forward. Probably the most special part of meeting these people is seeing how they progress in life (and on their boards!).
Is there any success story from your students or some that you are particularly proud of?
Honestly, every single scholarship recipient stands out with their own style. They are all selfless and contribute to their communities in one way or another. I know given your DIY background, you'd appreciate that one of our 2018 recipients helped build Lower Bobs in Oakland, CA. Many of our recipients from all three scholarship classes have worked as instructors for lessons or skate camps in their area. One from this year even started their own nonprofit organization.
How many scholarships did you manage to offer so far?
So far in three years, we've awarded 23 scholarships in total, 26 if you count a collaboration we did with the NewSchool of Architecture & Design in San Diego.
How much of his recipients' college expenses CSEF is funding?
Right now, each scholarship recipient receives $1,000 in their student account.
Do you get support from the skateboarding industry?
We have worked with some companies that support with in-kind donations and/or cash donations. This year's stresses, mostly due to COVID-19, slowed that support, but we couldn't be more stoked to continue our work and actually grow a bit instead of shrink with the decreased funding.
Do you think about developing your model abroad?
We have heavily considered expanding to other countries. However, the problem of student debt is by far the largest here in the United States. At Pushing Boarders, some people unfamiliar with the American university system were even confused about what we do, haha. Canada is a strong candidate for the next country we work within.
How can we support your initiative?
To continue our work, we rely on donations and support from people and companies that believe in what we do. Each year, we receive an average of 200 applications, about half of those being very good ones. We've only had enough to do what we've done so far, but the impact is only limited by funding. We are a 100% volunteer Board of Directors, so all money received goes to small operating costs and the scholarship fund itself. You can make a donation at collegeskateboarding.com, follow along at our Instagram account, and if you want to form a long-term or larger donor relationship email us at info@collegeskateboarding.com.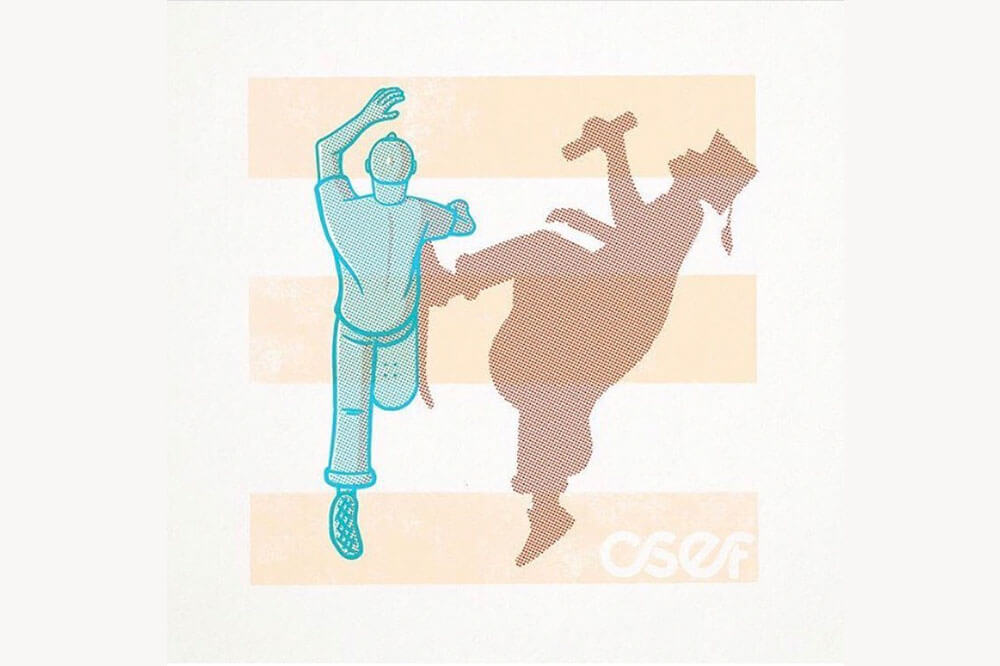 Graphic by CSEF's artist Pat Sison.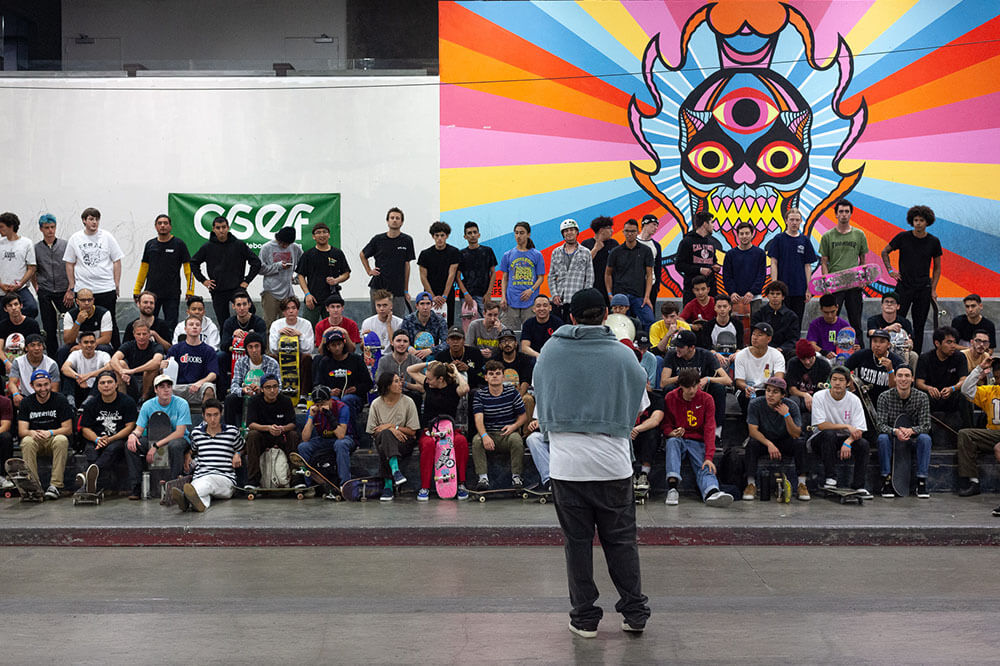 Co-chairman of the Board Tommy Barker addressing the crowd at our 2nd Student Night at The Berrics. Picture by Pat Sison for CSEF.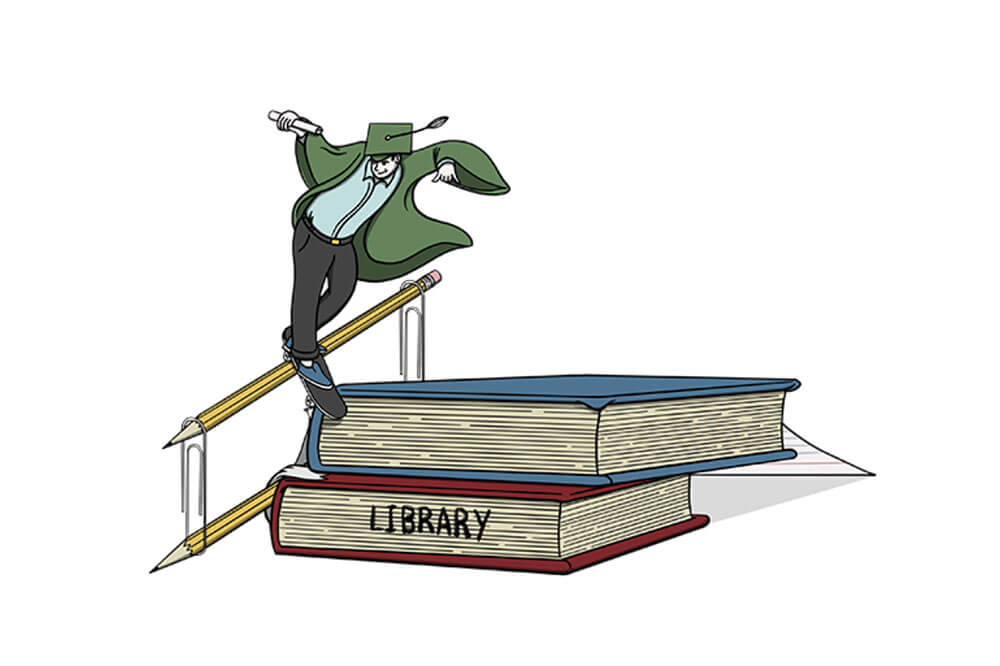 Illustration CSEF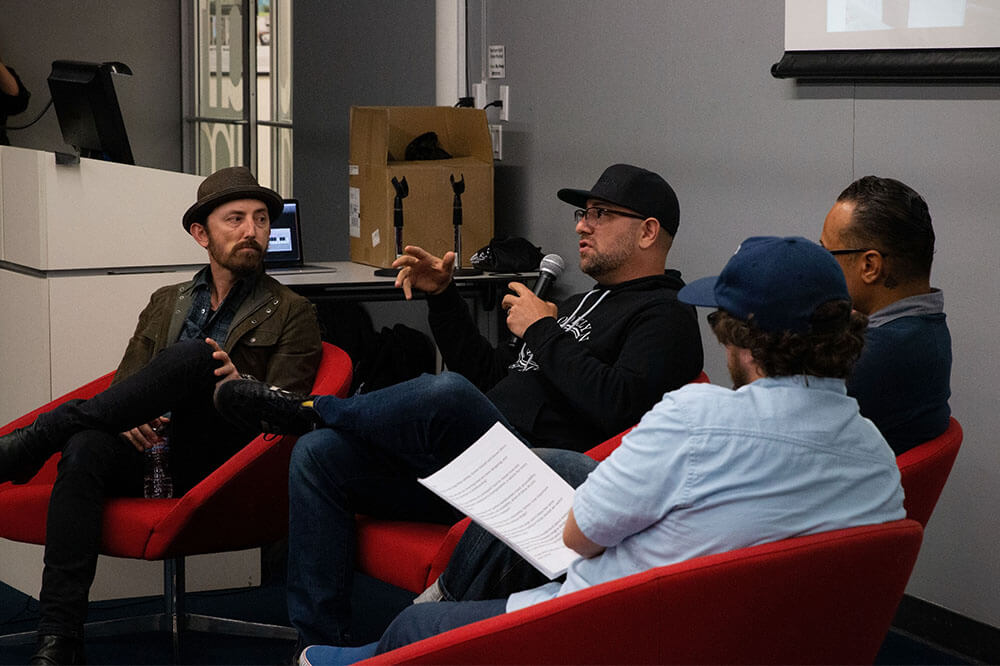 Creative Director Ian Smile talking to the crowd at a panel talk we put on at NewSchool of Architecture & Design in San Diego.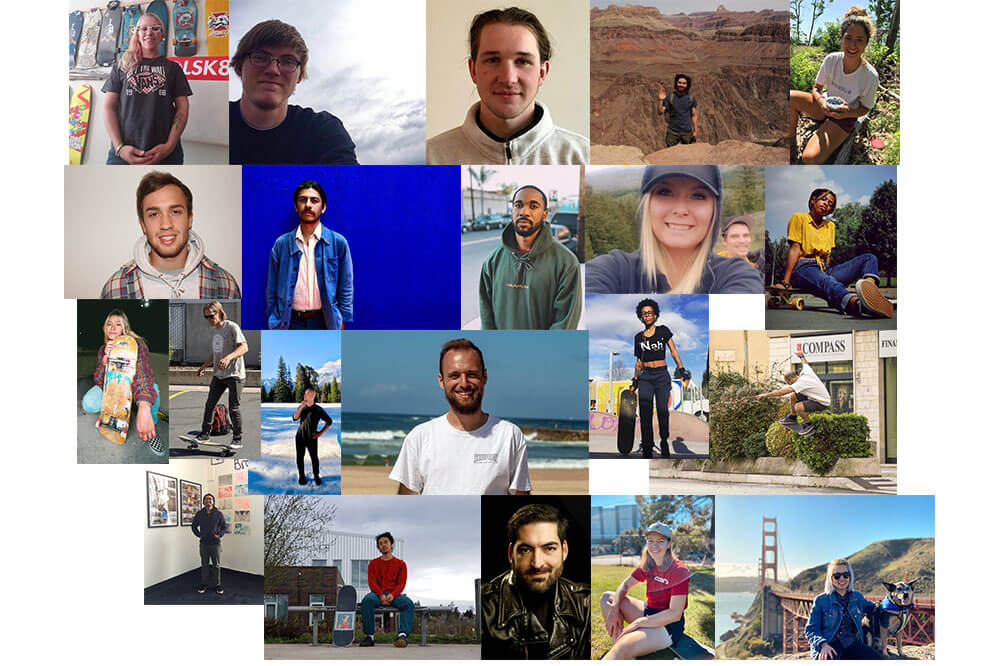 CSEF's scholarship recipients.