Vltavská V7, Prague.
19.01.2022 - 5 min read
Text by Martin Loužecký
---
Prague: In the autumn of 2021, after several months of hard work, Prague 7 has managed to transform the neglected underpasses nearby public transport junction Vltavská into a barrier-free sports playground. After the reconstruction of the surrounding areas, the underpasses lost their original purpose. Therefore the Prague 7 district has set itself the goal of turning the unsightly spot into a place where both children and adults will have a reason and a desire to spend their time. Such transformation is still quite unique in Central Europe. However, it could eventually lead to a deeper understanding of what possibilities are provided by sites that may seem inhospitable at a glance. In other words, the typical city no-go zone can swiftly become a place that attracts hundreds of visitors every day.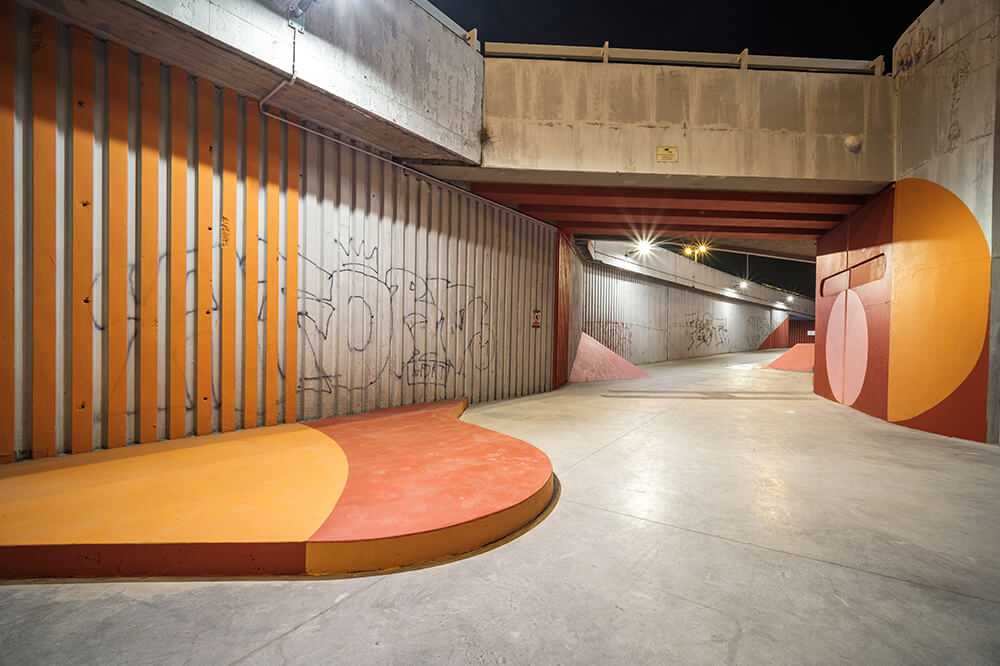 Pictures by Jiří Kotal
What is it for the skateboarding world? Prague, being rightfully recognized for its notorious Stalin Plaza, has a new jewel to brag about. This time the concrete replaced the granite and the open space shrank into a tunnel where the echoes of the former regime are outvoiced by modernity and the streams of the 21st century.
Common to the nordic and a few other enlightened cities, the solution is simple in its design yet powerful in its idea. The very project does not depend on the reconstruction itself, but rather the life created by the reconstruction. The newly looking underpass shall bring people of different interests to cope together, to enjoy the daily excitements together and to learn from one another. Moreover, it shall secure the interaction of people who just pass by, with those who came by intention. It is the freshest and the most senseful idea there is.
Before - Pictures by Bonidee Skateparks
Not a single skateboarder enjoys being expelled from the breathing concrete life of the city into a playground which has the word "park" in its name. Like aqua-park or a Jurassic-park it just does feel artificial. On top of that, being hunted by "the regular people" the reaction of skateboarders is often aggressive, which makes no sense with regard to the very nature of skateboarding - that is all love no hate. We all know that skateboarding is a bonding element where all differences in color, age or a social position are erased the minute we start rolling. So why is it that there is an imaginary war between the skateboarders and "the regular people"? It is because those communities were not exposed to cohabit a place together on purpose. Not in Prague, and only very rarely worldwide.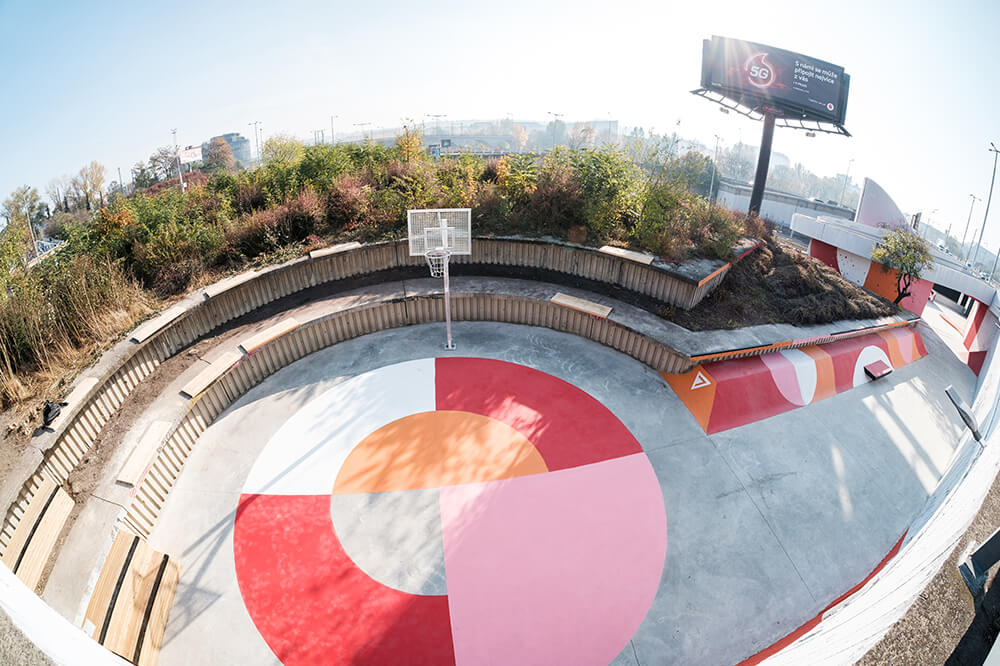 Pictures by Jiří Kotal
All the skaters, even in the peak of their focus, trying to land a trick have to understand and respect that it is still a road. The municipality agreed to such a solution believing that the skaters would understand it. They also agreed believing, that it may catch the interest of the pass-byers who might be really stoked on the wizardry practiced by the skaters. Believe it or not, that is exactly what happened. People going from work are taking a longer path in order to witness the cherry moments at the formerly rancid tunnel. Mums are taking their babies there in order to break out from the boring stereotypes and skaters are shredding it nonetheless, enjoying the attention, enjoying the freedom to skate a spot, not a skatepark. I've seen it with my own fucking eyes.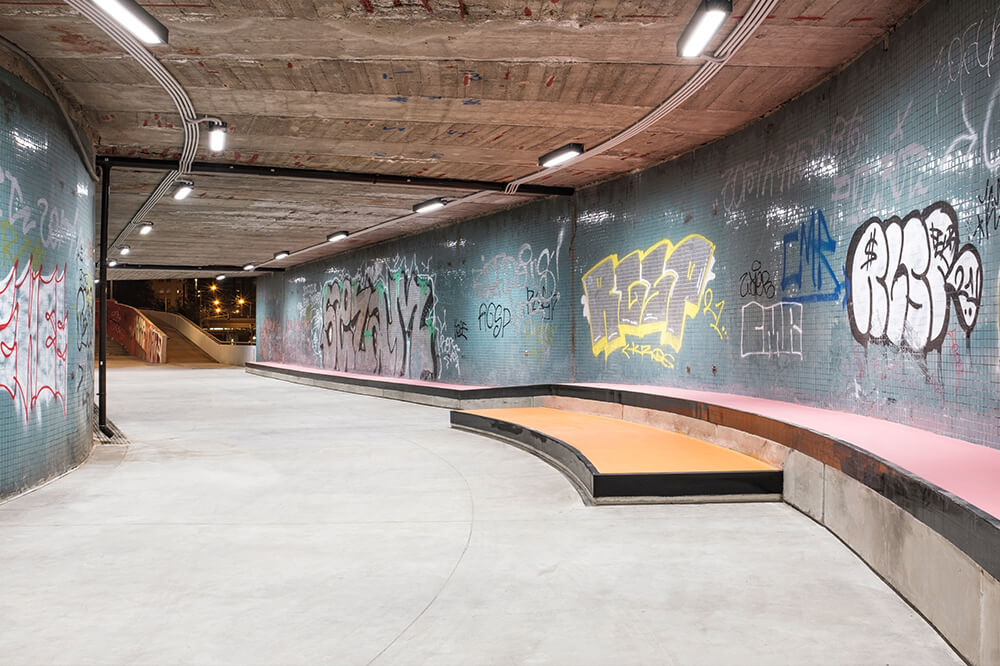 Pictures by Jiří Kotal
It is a regular spot for all the reasons mentioned above. It is legit to film a clip, or even a video-part there. People will be, and already are looking for alternative ways to skate it like nobody did before and instagrams will be melting under the new tricks that were not seen there before. It has the legitimacy of those dirty spots like Brooklyn Banks or South Bank, but it also has the scent of the fresh nordic architecture. The skaters of Prague love skating ledges, we were born to it, but we always cried with the coming winter bringing a layer of snow on our beloved obstacles. Now there is an endless ledge covered from water in any condition, perhaps being the result of the persistent prayers of many of us. There are manual pads also deeply appreciated by those who worship the nearby Stalin Plaza and there is a china bank and a hip that are not easy to tame. I can't wait to see the international teams coming to check it out and showing what they got. We have some interesting times ahead, there is no doubt. Just come by yourselves, come see it, come live it!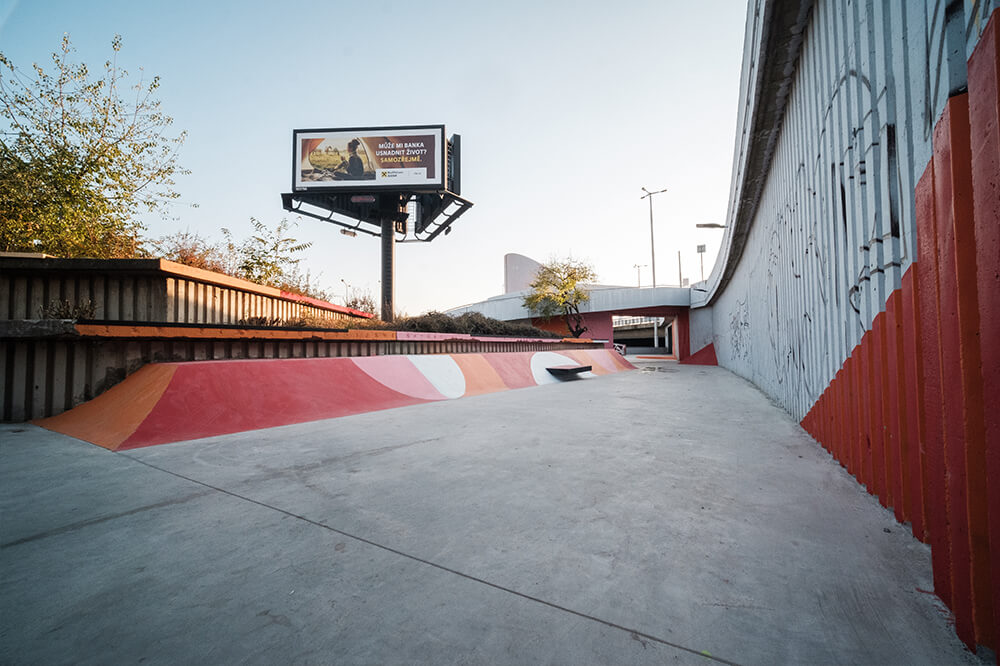 Pictures by Jiří Kotal
"The underpasses on Vltavská have been more of a poorly lit maze in recent years, which everyone preferred to avoid. We asked ourselves what to do with such a specific space in the centre of Prague so that it does not remain an unused dead place, which is only a disgrace in the city," says Hana Třeštíková, the Deputy Mayor of Prague 7 and Prague City Councillor for culture and tourism, and she adds: "Thanks to the great commitment of a number of skilful and creative people, we managed to wake up this inhospitable zone and create an original community space."
It was a pair of local patriots Richard Preisler and Martin Kontra who were requested by Prague 7 to come up with a concrete solution. For this purpose, they invited architects from U / U Studio to participate. "The result is a project of a multifunctional sports and social centre. Underpasses are now enlivened by sports elements for skateboarding and BMX, basketball hoops or bouldering grips. However, the space offers a friendly environment for everyone, parents with children and other inhabitants or any passers-by. It is particularly this multifunctionality thanks to which the place will be alive, friendly and safe. At the same time, the change will certainly be appreciated by pedestrians, who will no longer have to walk through a dark, neglected underpass," say Kontra and Preisler.
"As skate architects, we immediately knew that implementation of skateboarding and other leisure activities is the perfect way of healing this shady area. Skate community have occupied this spot right after opening and is taking care of it. Adolescents are happy to have a rain cover place where they can (thanks to constant lighting) ride all day long. Putting new life and joy into the spot seems to be working and the place became safe for everyone," says Martin Hrouda from U / U Studio.
Solution idea: re-place.cz
Architects: U/U studio
Client: municipality of Prague 7
Supervision: Hana Třeštíková
Construction: Bonidee Skateparks
Wall art: Maxo Šimko, Jakub Karlík
https://www.prahasobe.cz
www.bonidee.cz
https://uustudio.cz/
https://re-place.cz/

Video by Drakslide.cz