Solwezi Skateboarding from Zambia

07.07.2021 - 4 min read
Story from Peter Himzco
---
As we were building the first skatepark in Zambia, I received messages from this instagram account @skateboarding_solwezi asking for help to achieve their dreams and to do so spread the word for them as they want their voices to be heard in the skate community. We were in Mongu, which is already a 10 hour drive from the capital Lusaka and Solwezi is another 10 hour from either Lusaka or Mongu, it's a triangle. Chuy and Olympia from our builders crew came to Zambia with six suitcases full of complete boards from Donate For Skate. They also got contacted by those guys in Solwezi and went on a side mission during the build to deliver around 15 complete set up to them, legends! Here's the story from Peter Himzco, the man behind Solwezi skateboarding :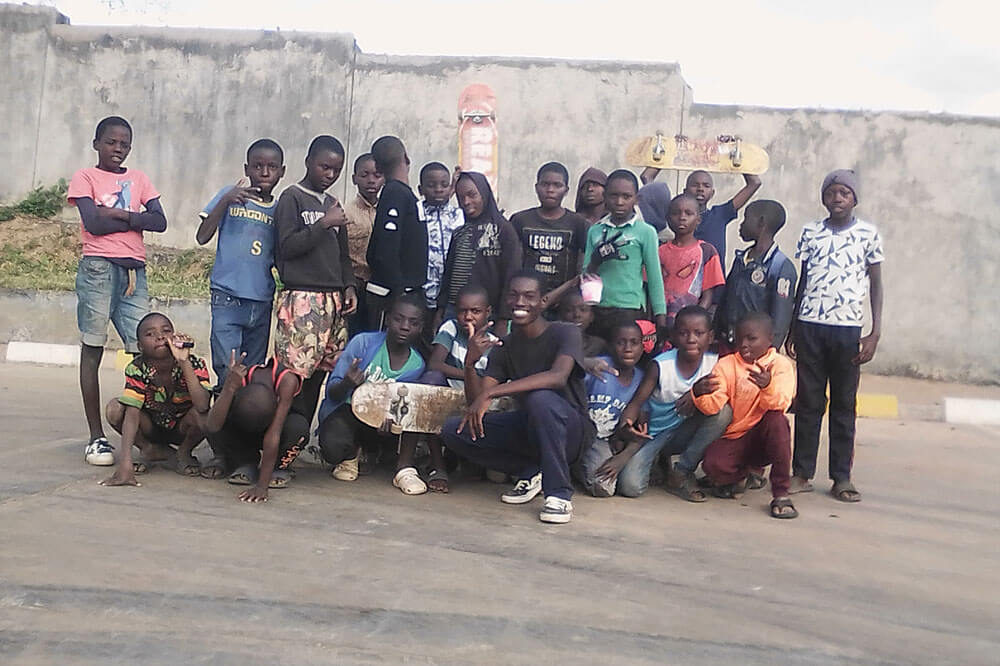 Solwezi Skateboarding
Skateboarding in Solwezi has been very critical and challenging.  There is lack of concrete in town, as a result there is almost nowhere to skate from. A few weeks ago, we used to share only two skateboards for about a 20 of us, but we just got a donation of 14 skateboards to us. We now have some boards but still no place to skate from. We have only been allowed to skate the solwezi City Mall once in a week, Sundays only!  There a lot of reasons to stop us from skateboarding but we never give up, instead we keep it rolling. Kids here love skateboarding very much! They move long distances just to come and skate. What inspires me the most is seeing all these little dudes moving long distances just to come and skate, they always share love and get along with each other. We all come from different homes with different backgrounds but with skateboarding we all do the same thing. The skate scene seems to be blowing up, even though we don't have enough resources. "CANT STOP WON'T STOP »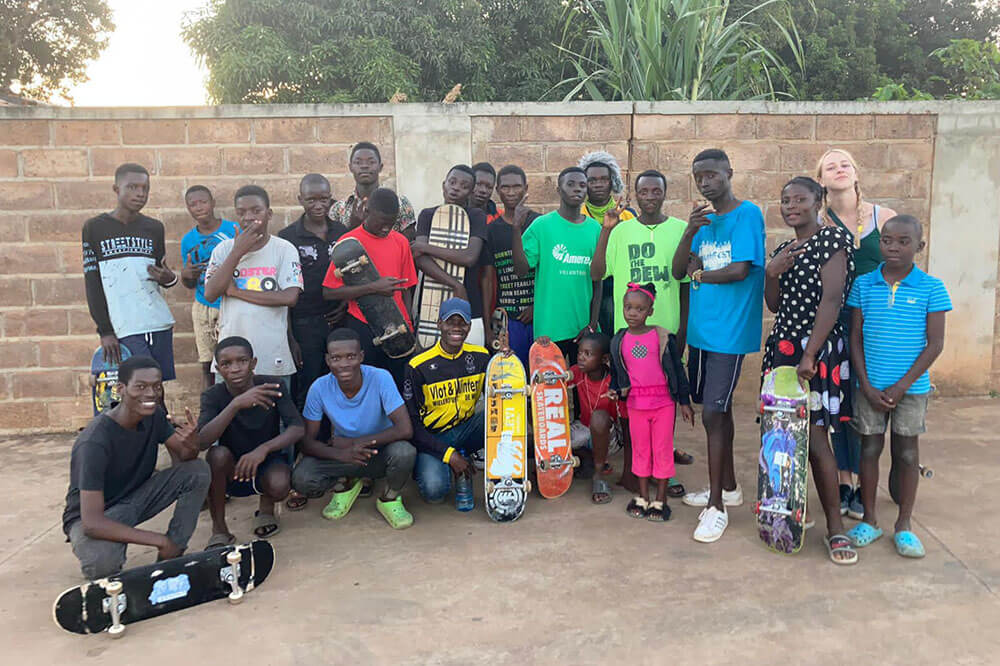 Solwezi Skateboarding
Over the years, they have been some people who have been skating Solwezi, of course. Before I started skateboarding, I can remember how I felt when I first saw someone riding a skateboard in town. Just there I wanted to have a skateboard, I knew of a shop in town where they sell skateboards (Chinese). I didn't know anything about quality of a board. So I did a few of some work to raise money to buy a board, I raised all the money I needed and bought it. All my friends were so happy, we all went at the mall to teach ourselves how to skate. Yes, the board wasn't a good quality so it snapped about a day later. I and all my friends loved this new thing. A friend of mine went on to take a step and bought the same board I bought. It also snapped! But we didn't give up we got into details researched about Skateboarding we found real things... It's a very long story of how we started skateboarding. 
We all couldn't afford to buy a brand new board, we linked up with some skaters and they sold a second hand skateboard to my friend. We all learnt to skate on his board. 

So sad that when we started real skating, more trouble came. The security guards at the mall now started chasing us away from the mall saying that it ain't a playing ground. We couldn't find any place we could be allowed to skate from in the whole town, since there's shortage of concrete. But we always went to the only two malls in town, where we were always kicked out...
We made new friends from different backgrounds, different homes, but when we came to skate together non of that shit mattered to us.This whole new crew turned out to be a skate community. We accepted anyone without a skateboard to come and learn and be a skater, cause we understood how it feels to have no skateboard. I saw all those smiles and happiness kids in town showed when they saw us moving with a skateboard. We took who ever was interested to come and skate. Seeing so many people joining the team made me so happy, I knew how much love we all have for skateboarding and how it keeps everyone out of trouble.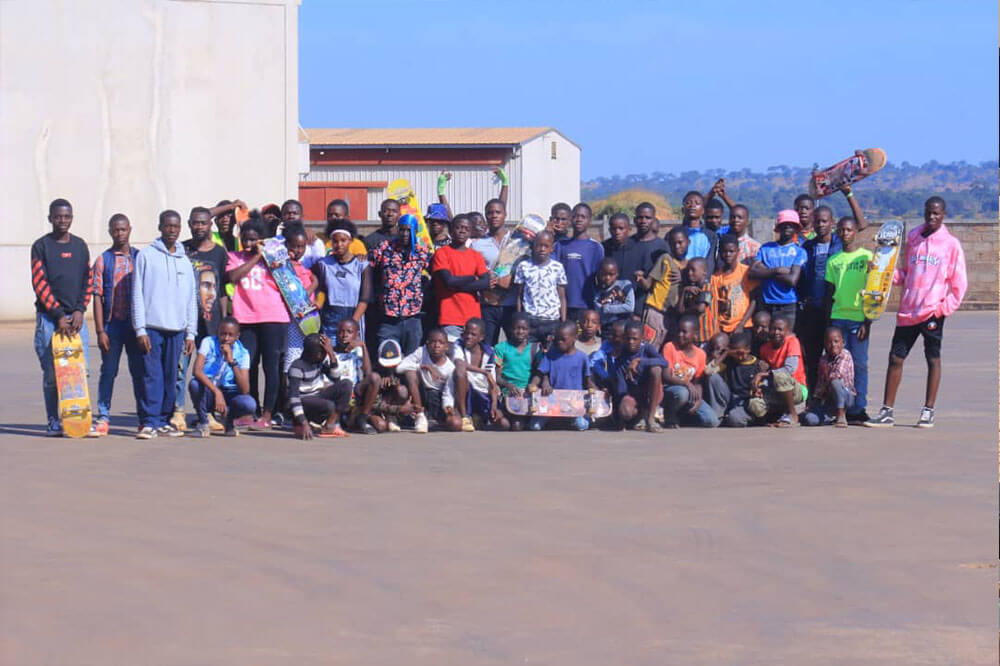 Solwezi Skateboarding
I saw all these challenges we all faced, until now but never stopped skating. All the kids who can't afford to buy their own boards but still wanted to skate, motivated me. I thought of why not share this to the world? I just did it. First started up an IG account, then a Facebook page. I started all this in hope and believe that I and everyone will change our little country. 

It has all happened just in a short period. I reached out to different kinds of people to help us with skateboards and other skate equipments. 

The first person to recognize our work is someone from Arizona. This guy has made a lot of big plans to help us with skate equipments and a skatepark. To do all this he made 2 t-shirt fundraisers for us. He has also sent a small package to us that's already on its way here. He plans to come to Solwezi 🇿🇲 soon.  This was the first attention we ever had.

The second attention, was from someone in California. This person was about to come in the country to help build the first ever skatepark in the country, in mongu Zambia. Before he left California I asked him to hit us up with skateboards, he said why not! This was his little side mission in Zambia. He brought to us 14 boards, when he came. This was the first real ever skateboard drop we ever had. He talked to the mall management so that they can allow us to skate there. He made up a fake story saying he runs a Skateboarding school. So he made an agreement with them. A contract was made, but we were only allowed to skate the mall once in a week (Sundays only!) More people now keep coming to learn. Too bad, the mall management doesn't want to see not more than 15 people at the mall (cause that's how many people signed the contract). We are now having challenges again for where to skate from. We still haven't found a solution to this one.
My aim is to teach more people to skate, especially the kids so that I can keep them out of trouble. My other aim is to provide a youth center where everyone can showcase their talent, a skatepark of course. I know many lives can be changed through skateboarding.  This is our story and current situation.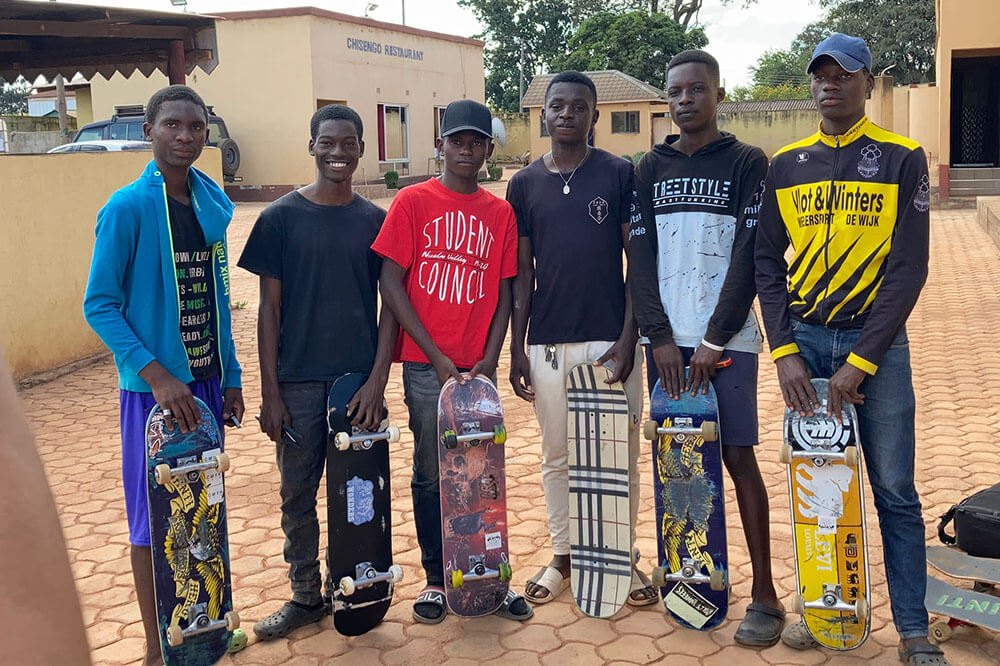 Solwezi Skateboarding
We are able to receive donations through Skateboarding Zambia's address outside the country without being charged for anything. I'm always in touch with Skateboarding Zambia whenever I need help in how to run sessions when I have a lot of kids with me and also how to go about getting land from the Government.  We Skate Mongu has always inspired me! When I started skateboarding Solwezi I didn't know much about the scene in Mongu, I went through all their posts on IG and wow it got me so emotional. Kids built their own boards. What Johnny and the kids in Mongu have done is a very great example for us. They have made the first ever public skatepark happen in our country. I thought people get paid for building skateparks, but no! The crew that came to build the park in Mongu did it for free but they received happiness. We are only getting started I strongly believe the scene in Solwezi will be the next big thing in Zambia! I would like to thank We Skate Mongu for inspiring me.  To grow our scene in Solwezi we just have to be united and skate, the whole purpose of this is skateboarding. In the beginning we were just me and my friends skating but just in a short period of time we now have more than 80 people in our team.